Tag: Saturday of Lazaros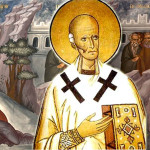 The joy that permeates and enlightens the service of Lazarus Saturday stresses one major theme: the forthcoming victory of Christ over Hades. "Hades" is the Biblical term for Death and its universal power, for inescapable darkness that swallows all life and with its shadow poisons the whole world.
The Saturday of Lazaros is counted among the Major Feasts of the Orthodox Church.