Tag: Saints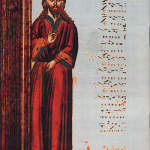 John Koukouzelis was born in Dyrrachium, probably during the twelfth century. His father died while he was still a child, and his devout mother placed him in school to learn to read and write and to chant. It so happened that he was noticed during a search for talented students and accepted into the school of the imperial court in Constantinople. Here he attracted the attention of the Emperor Comnenos and his court because of his exceptionally fine voice, comely appearance and native talent.
Saint Romanos the Melodist lived in the sixth, or according to others the eighth, century. He was ordained a Deacon in Beirut and then went to Constantinople, where he served in the Sacred Church of the Theotokos in Kyros, but participated in all-night vigils which were often done in the Sacred Church of the Panagia of Blachernae.
Once, when John Koukouzelis was chanting during an all-night vigil, as soon as he completed the "Axion Esti", he was stunned to see the Most Holy Theotokos in front of him, who thanked him as she put a gold coin in his hand, because he chanted the hymn devoutly and with humility.
Our holy Father Gerasimus came from Peloponnese. In his youth, his devout parents put him to the study of sacred literature, in which he showed outstanding ability. As a young man, he left home for the island of Zakynthos and travelled thence all over Greece.
Cosmas and Damian were unmercenaries physicians and miracle-workers. They were brothers both in the flesh and in the spirit, born somewhere in Asia Minor of a pagan father and a Christian mother. After their father's death, their mother Theodote devoted all her time and effort to educating her sons and raising them as true Christians. God helped her, and her sons matured as sweet fruit and luminaries of the world.
She was born and lived in Rome in the third century under Emperor Decius. After settling in a monastery as a nun she was arrested, courageously confessed her faith, and after terrible tortures she completed her life in a martyric way. While she was alive she was a benefactor to people with her holy life and her prayer was pleasing to God. After her death she became even more of a benefactor and consoler.
The blessed Elder George came from Pontus and was orphaned and left on his own very early in life. After being persecuted and imprisoned by the atheist regime in Georgia, he came to Greece where the humble man lived with such asceticism and zealous faith that he was granted the gifts of discernment, vision, foresight and prophecy. Father George was born in Argyroupolis (Gümüşhane) in the Black Sea region in 1901.
The venerable Ioannikios was born in Bithynia in 740 AD by pious parents, Myritriki and Anastaso, who raised him "in the education and admonition of the Lord". He was enlisted into the army during the struggle of the Iconoclasts against the sacred icons and drifted into the delusion of iconoclasm. When, however, he was dismissed from the ranks of the army he realized his error, repented sincerely, and even became a fervent preacher and confessor of the Orthodox Faith.
The divine Nektarios of Aegina, is one of the most widely known of Greek Orthodox Saints. He was born on October 1st, 1846 in Silyvria, in Asia Minor. At Holy Baptism he was given the name Anastasios. His parents were simple pious Christians. They brought him up in a manner pleasing to God, and did what their very limited means allowed for his formal education. Having completed elementary school in his hometown, he left for the great city of Constantinople at the age of 14.