Tag: Great lent
The first service of Great Compline in Hong Kong.
The Salutations to the Most Holy Theotokos in Hong Kong.
a short note on the major hymns of the Great Compline
A short explanation of the Lenten Prayer of Saint Efraim the Syrian.
On Wednesday, March 15, 2017, the Presanctified Liturgy will be performed at Saint Luke Orthodox Cathedral in Hong Kong at 18.30 pm.
A short explanation of the 3rd Sunday of Great Lent which is dedicated to the Veneration of the Holy Cross.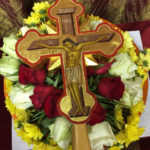 On this day, the Third Sunday of the Great Lent, we celebrate the Veneration of the Honorable and Life-Giving Cross.