Tag: Great lent
The Panagia is a Throne. She is a glorified throne, in the words of Saint John of Damascus. "Rejoice, throne of God, glorified and pure; Rejoice, spacious palace."
This prayer of Manasseh is read during the Great Apodeipnon service (Great Compline) beginning with the evening of the Monday after Cheesefare Sunday (Clean Monday).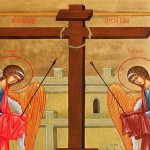 The feast of the Veneration of the Cross is undoubtedly one of the greatest in Orthodoxy and is especially loved and honoured by members of the Church.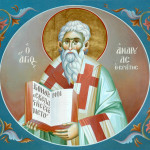 As we approach Great Lent, the time given to us specifically for repentance, the Church gives us a whole host of images to help us.
Who was the author of the Akathist Hymn? To this question there has not been given an answer till this day which would not be disputed.
Learn about Clean Monday (this Year: March 14, 2016), about the beginning of Great Lent and the general rules of the Lenten Fast.
The Service of the Salutations to the Most Holy Theotokos and Virgin Mary will be conducted on Friday, March 18, 2016, at 19.00pm, at Saint Luke Orthodox Cathedral in Hong Kong.
Learn about Clean Monday and about the general rules of Lenten Fast.