Tag: full-image
In the weeks between November 15 and December 25, Orthodox Christians prepare themselves to celebrate the birth in the flesh of our Lord Jesus Christ.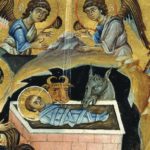 For the Christmas, New Year and Theophany Schedule of Services at Saint Luke Orthodox Cathedral in Hong Kong, see here Blessed Christmas and Happy New Year!
Message by Metropolitan Nektarios of Hong Kong and South East Asia on the occasion of the Chinese New Year of the Dog.