Tag: Ecumenical Patriarchate
At the invitation of the Archbishop of Canterbury, His All-Holiness Ecumenical Patriarch Bartholomew paid a formal visit to Lambeth Palace from November 2-4, 2015.
At the invitation of the Oxford Union, His All-Holiness delivered an address to the members and guests of the Oxford Union on November 4, 2015, at the University of Oxford.
The National Herald, a weekly Greek-American publication, recently reported on "The Orthodox Church Perseveres, Triumphs over Terror" written by Theodore G. Karakostas, in its December 5-11, 2015 issue.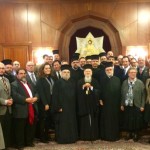 The Ecumenical Patriarchate hosted a meeting of thirty scholars on January 4-5, 2016.
Those who over the centuries actually saw the miracle of Haghia Sophia at first hand are innumerable.
The Synaxis of Primates of the Orthodox Autocephalous Churches took place at the Orthodox Center of the Ecumenical Patriarchate in Chambésy, Geneva, from 21st to 28th January, 2016.
Official Announcement and Agreed Texts of the Synaxis of Primates of the Orthodox Churches Regarding the Holy and Great Synod 2016.
Patriarchal and Synodical Encyclical on the Convocation of the Holy and Great Council of the Orthodox Church.