Tag: Ecumenical Patriarchate
Pope Francis was enthusiastically greeted with the ringing of church bells upon arrival at the Ecumenical Patriarchate today on the occasion of the celebration of St. Andrew the Apostle, patron saint of the Church of Constantinople, the Byzantine name for present-day Istanbul.
Metropolitan Methodios spoke with The Pilot Dec. 5 about his experience of this important ecumenical moment.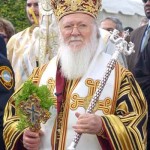 Excerpts from an Interview with Ecumenical Patriarch Bartholomew by the Journalistic Team of the School of Bakogiannis on November 30,2014.
On January 13, 2015, the Holy and Sacred Synod of the Ecumenical Patriarchate in Constantinople officially entered PAISIOS EZNEPIDIS (1924-1994) among the list of saints whose memory the Orthodox Church celebrates.
Our Church has traditionally sought to build bridges between diverse faiths, cultures and peoples, between humanity and the natural environment, as well as to promote peace and solidarity in the name of God and for the sake of the human person.
Many of you may be surprised that a religious leader concerned with "spiritual" values is accompanying a political leader involved with "secular" issues.
Amongst an enthusiastic round of applause, His All-Holiness offered three wheel-chairs to assist the disabled and then departed to return to Constantinople after midnight.
Many people were moved, in particular, by the Pope and the Patriarch's embrace, and by Francis's bowing before Bartholomew with a request to be blessed and to pray for the Church of Rome.
Therefore, Christ arose from the dead and demonstrated in this way as well the inability of death to prevail and bring about any stable change in the world.