Triodion
Clean Monday and General Rules for the Lenten Fast.
On the same day, the Fourth Sunday of the Fast, we celebrate the memory of our Holy Father John, the author of The Ladder.
The Ladder of Divine Ascent is an ascetical treatise on avoiding vice and practicing virtue so that at the end, salvation can be obtained.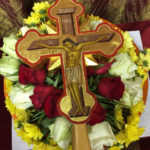 On this day, the Third Sunday of the Great Lent, we celebrate the Veneration of the Honorable and Life-Giving Cross.
A short explanation of the 3rd Sunday of Great Lent which is dedicated to the Veneration of the Holy Cross.
Learn about Clean Monday and about the general rules of Lenten Fast.
Let's explore the meaning of each of the solemn days of Passion Week.
Learn about Clean Monday (this Year: March 14, 2016), about the beginning of Great Lent and the general rules of the Lenten Fast.
One of the most important stories in the New Testament is the Parable of the Prodigal Son.