admin
admin's Latest Posts
The main theme of this year's Week for Christian Unity is taken from the Old Testament, from the Book of Exodus.
Week of Prayer for Christian Unity: Your right hand O Lord, glorious in power (Exodus 15:6)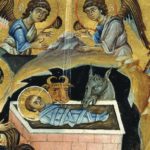 For the Christmas, New Year and Theophany Schedule of Services at Saint Luke Orthodox Cathedral in Hong Kong, see here Blessed Christmas and Happy New Year!
In the weeks between November 15 and December 25, Orthodox Christians prepare themselves to celebrate the birth in the flesh of our Lord Jesus Christ.
It is with great sadness that we have learned of the falling asleep in the Lord of Maria Makri.
It is an honor to address the Arctic Circle Assembly at the gracious invitation of the organizers, especially its founding Chairman and former President of Iceland, His Excellency Ólafur Ragnar Grímsson.
The Orthodox Community in Hong Kong celebrated the Feast of the Elevation of the Venerable and Life-Giving Cross on Sunday, September 17, 2017.
Pope Francis and Ecumenical Patriarch Bartholomew have issued a joint statement to mark the World Day of Prayer for the Care of Creation.