admin
admin's Latest Posts
This year, 2018, the Orthodox Church celebrates the Glorious and Holy Pascha on Sunday, April 8.
On the same day, the Fourth Sunday of the Fast, we celebrate the memory of our Holy Father John, the author of The Ladder.
The Ladder of Divine Ascent is an ascetical treatise on avoiding vice and practicing virtue so that at the end, salvation can be obtained.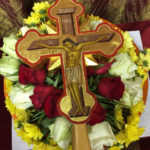 On this day, the Third Sunday of the Great Lent, we celebrate the Veneration of the Honorable and Life-Giving Cross.
Message by Metropolitan Nektarios of Hong Kong and South East Asia on the occasion of the Chinese New Year of the Dog.
The main theme of this year's Week for Christian Unity is taken from the Old Testament, from the Book of Exodus.
Week of Prayer for Christian Unity: Your right hand O Lord, glorious in power (Exodus 15:6)