admin
admin's Latest Posts
KEYNOTE ADDRESS By His All-Holiness Ecumenical Patriarch Bartholomew At the World Children's Day Celebratory Event (Geneva, Ecumenical Center, November 21, 2018)
The Christmas Fast begins on November 15 and lasts 40 days, concluding on December 24.
It is with great sadness that we have learned of the falling asleep in the Lord of Dr.John P. Malliris.
This year, 2018, the Orthodox Church celebrates the Glorious and Holy Pascha on Sunday, April 8.
On the same day, the Fourth Sunday of the Fast, we celebrate the memory of our Holy Father John, the author of The Ladder.
The Ladder of Divine Ascent is an ascetical treatise on avoiding vice and practicing virtue so that at the end, salvation can be obtained.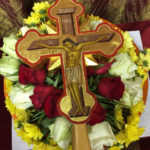 On this day, the Third Sunday of the Great Lent, we celebrate the Veneration of the Honorable and Life-Giving Cross.
Message by Metropolitan Nektarios of Hong Kong and South East Asia on the occasion of the Chinese New Year of the Dog.