admin
admin's Latest Posts
A conversation with Metropolitan John Zizioulas regarding the suspension of Church Services due to Covid 19
Message of Ecumenical Patriarch Bartholomew regarding COVID-19
Communiqué of the Ecumenical Patriarchate regarding the COVID-19 (March 18, 2020)
Communique of the Holy and Sacred Synod of the Ecumenical Patriarchate regarding the COVID-19 (Corona) virus
The Orthodox Cathedral of Saint Luke in Hong Kong will remain closed until March 31, 2020.
The Schedule of Christmas Services in Hong Kong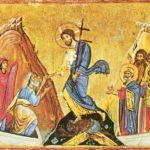 The question is what exactly do we mean when we speak about Hell and the descent of Christ into it.
The Resurrection of Christ is the greatest event in history.