Other Recent Posts
A conversation with Metropolitan John Zizioulas regarding the suspension of Church Services due to Covid 19
Message of Ecumenical Patriarch Bartholomew regarding COVID-19
Communiqué of the Ecumenical Patriarchate regarding the COVID-19 (March 18, 2020)
A Prayer in Light of the Coronavirus Epidemic
Communique of the Holy and Sacred Synod of the Ecumenical Patriarchate regarding the COVID-19 (Corona) virus
The Orthodox Cathedral of Saint Luke in Hong Kong will remain closed until March 31, 2020.
Triodion begins on Sunday, February 9, 2020
Patriarchal Proclamation for Christmas 2019
The Schedule of Christmas Services in Hong Kong
The question is what exactly do we mean when we speak about Hell and the descent of Christ into it.
The Resurrection of Christ is the greatest event in history.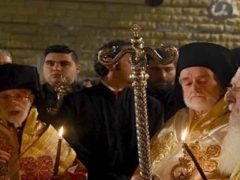 Patriarchal Encyclical for Holy Pascha
The major themes and the meaning of each day of Holy Week.
The Saturday of Lazaros is counted among the Major Feasts of the Orthodox Church.
Holy Week and Pascha Schedule of Services in Hong Kong
Clean Monday and General Rules for the Lenten Fast.
Catechetical Homily at the Opening of Great Lent 2019
Hong Kong Catholic Bishop Michael Yeung dies at 73
Patriarchal Proclamation for Christmas
KEYNOTE ADDRESS By His All-Holiness Ecumenical Patriarch Bartholomew At the World Children's Day Celebratory Event (Geneva, Ecumenical Center, November 21, 2018)
The Christmas Fast begins on November 15 and lasts 40 days, concluding on December 24.
It is with great sadness that we have learned of the falling asleep in the Lord of Dr.John P. Malliris.
Patriarchal Encyclical for the Protection of the Environment
About sin and forgiveness.
Keynote Address by Ecumenical Patriarch Bartholomew at the Opening of the Ecological Symposium in Athens